December 2020 – The Forum organized virtually, provide a platform for a diverse audience, ranging from policy makers, research leaders and academics to civil society representatives, entrepreneurs and the youth, to engage in inspirational topics relating to the Atlantic Ocean.
The Forum showcased the progress of initiatives to support the implementation of the Belém and Galway statements. These initiatives are aligned with the relevant blueprints of the All-Atlantic partners, such as South Africa's Operation Phakisa Oceans Economy, the European Union's Blue Growth Strategy, the Brazilian Blue Economy, Canada's Ocean Strategy, as well as the relevant policies and strategies of the United States of America.
The Forum will also explore a range of related topics, including :
the society interface for a healthier Atlantic;
skills for a changing Atlantic;
Atlantic Ocean collaborative and data infrastructure;
initiatives under the All-Atlantic Ocean Research Community;
the launch of a new intake of All-Atlantic Ocean Youth Ambassadors;
and the contribution of the Alliance towards the UN Decade of Ocean Science and the Sustainable Development Goals.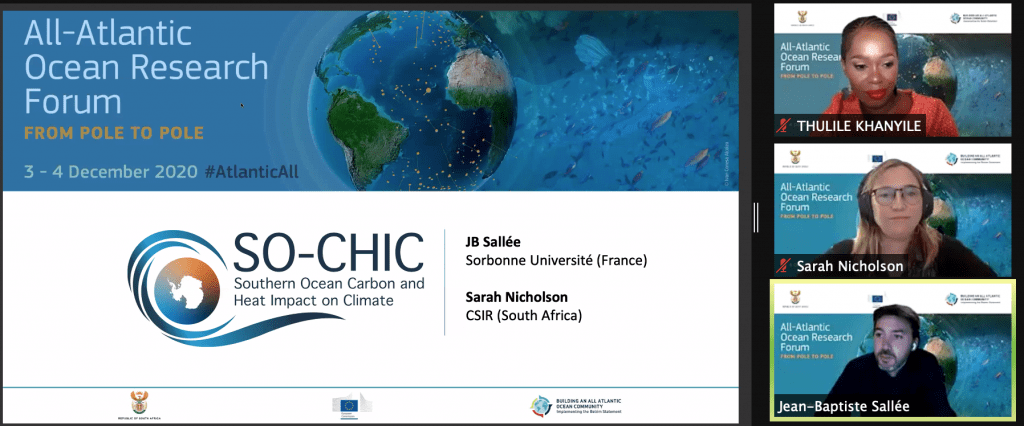 As an active member of the Community, SO-CHIC's main objectives was presented by Sarah Nicholson (SO-CHIC member at CSIR, South Africa) and Jean-Baptiste Sallée (SO-CHIC coordinator at SU, France). They both emphasized the expected impacts of the research developed through out the project, highly linked to the Belém Statement.
More to read in our section "Expected Impact".